Donate to Support LbNA
One time donation via PayPal, any amount.
Donations fund Letterboxing North America's (LbNA) organizational and web hosting expenses. LbNA operates as a unincorporated nonprofit association in the state of Massachussetts. LbNA has no paid employees. Donations are not tax deductible.
Checks made out to "LbNA" can be sent to John Chapman ("Choi"), 31 Irene Ct, Bellingham, MA 02019
Please include your mailing address and trailname.
Donate $25 and we'll send you a LbNA patch.

Donate $30 or more and we'll send you our LbNA Supporter patch.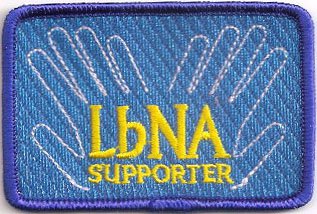 Supporter names are listed by donation amount then alphabetically by trailname. If we're not correctly reflecting your donation, it may be because we couldn't associate a donation with a trailname; please contact the webmasters to get that fixed.
LbNA Patrons
| ID | Member | &nbsp |
| --- | --- | --- |
| 5027 | Choi | |
LbNA Partners
LbNA Friends
LbNA Supporters
LbNA Well Wishers